Education FCCP: Generic urban logistics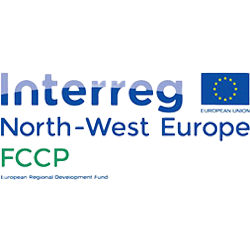 Sustainability and logistics is about finding new green solutions and a profitable business case. It is the integrated approach with thinking outside the box of the usual van and delivery truck. The major trend for urban logistics is the personalized on demand economy. Not only for consumers at home but also for the companies and shopping centers in the city. All these deliveries in a classical way will decrease the livability of the city centers. So to meet the climate goals and air quality goals in the city centers we should change to green logistics.
So this change should come and it is both an chance and a challenge. It  is also a transition by technology, economy, policy from macro level towards the implementation on meso and micro level
The solutions should be integral (including vehicles, technology, energy, infrastructure, logistics, business case, management, et cetera) and adaptive to the transition moving in. It is action and experiment that drives this transition. So flexibility in the solutions is the key to sustainable solutions.
There is a chance to develop green growth on package services, meal delivery, renovation market and just-in-time delivery to retail and hospitality
The challenge is the change that comes in a planned time frame and the restrictions in which this should take place. In for example the Netherlands the green deal zero emission city logistics comes into full transition in more than 30 city centers in 2025.
The vocational course, linked to the FCCP training,  on sustainable city logistics covers four themes:
Vehicle, traffic and energy         
Infrastructure and logistics process        
Management, organization and communication              
Business case

For vehicle, traffic and energy, solutions in letting the 'goods' move are chosen. So which vehicle, which technology and how to ensure safe traffic and availability of energy resources . Light electric freight vehicles (Figure) are here one of the solutions amongst others, for example battery or hydrogen electric trucks (Figure). The bottom line is the profitable business case with a minimal energy use per package delivered.

Infrastructure and logistic process describes the logistic chain on last mile delivery. As mentioned before this covers only a part of the city logistics. So also here we have to combine the classical and new logistic chains. Furthermore this should be integrated in the infrastructure of the city: so where should we locate a hub and for example park and maintain the cargo bikes
A different way of working will request also a different way of organizing the work, the management of the flexible use of modalities and communication in the logistic process (like traceability of the packages).
The business case brings all together. How to make a start with the sustainable business case, initially subsidized, but finally to find solutions which are profitable by itself. Here learning by doing is part of the innovation process.
Summary of deliverables: link
K00: Introduction to sustainable urban logistics
K01: Vehicle, traffic and energy
K02: Infrastructure and logistics process
K03: Management, organization and communication
K04: Business case
Restricted area (FCCP project members; For the links: please login on the FCCP teams site)
The theoretical base consists of: