About the project
This project focusses on the replacement of combustion engine vehicles in urban freight transport by emission free FCCPs and thus on the reduction of CO2– and noise emissions as well as traffic jams in European cities. Therefore, this project builds on the insights of the three complementary parts: the logistic concept, technology and involvement of the cities.
E-mobility
The constantly growing e-commerce has fundamentally changed the character of urban freight transport. Evermore, goods are ordered online and must be delivered to the customers' private addresses. The transport sector still uses mainly the combustion engine vehicles, designed for yesterday´s urban transport. As a consequence, the current transport sector in European cities causes 50% of the emissions and 30% of the vehicle kilometers and is thus one of the major contributors to the socio-economic issues of air and noise pollution as well as traffic jams in European cities. Cargo bikes provide sufficient payload for today´s requirements of urban freight transport, are emission free and reach higher average speed in cities than vans, as they often can use bus- and bike lanes, one way streets in both directions, enter pedestrian areas, or filter through slow moving traffic in some cities.
Fuel cell
The fuel cell system by the German Aerospace Center of this project can easily provide up to 5kWh – even enough for safety technologies such ABS or X2X – is refueled within seconds, has a significantly longer lifecycle than batteries and operates without any performance losses until at least -20°C. Its waste product – warm air with water vapour – can be provided to the driver in winter as heater without any range loss. Finally, one FCCP can save 5,5 t CO2 p.a. The hydrogen in the project comes from existing gas stations in the partner cities. They all provide generally green hydrogen produced by electrolysis of energy from renewable sources (on the spot or by accounting). Only if the demand is higher than the production, the hydrogen will be produced by conventionally electricity.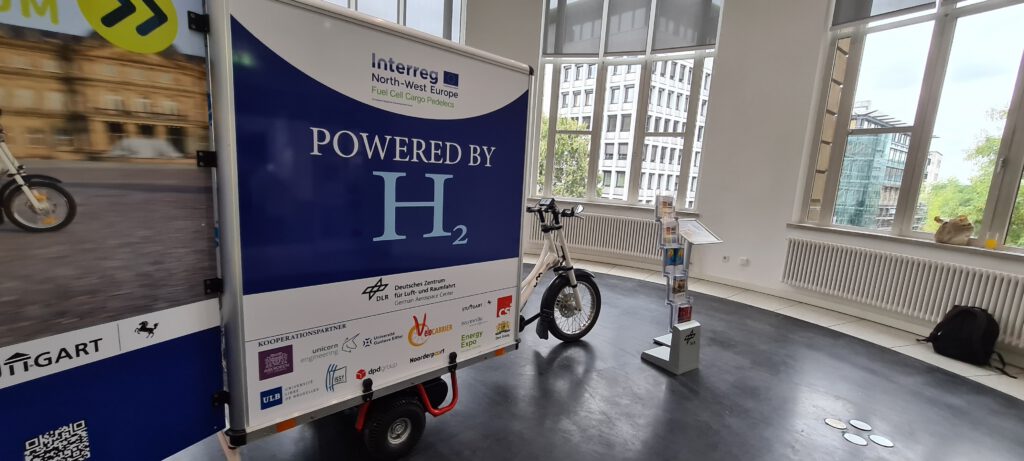 Bikes:
The following Partners will have FCCPs in Operation:
Aberdeen City, DLR, EnergyExpo, Issy, City of Stuttgart, Unicorn Energy, VeloCarrier
More Details coming soon.